Meet the Employee: Nemesis Silva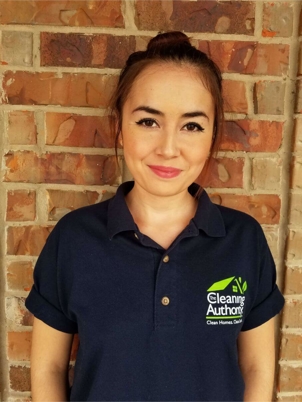 After working for years in the restaurant and retail industries, usually balancing two to three jobs at once, Nemesis Silva found a job at The Cleaning Authority in Oklahoma City in 2011 and has been a dedicated employee ever since.
With The Cleaning Authority, Nemesis found a sense of stability that she never had before in other companies. "I know I work Monday through Friday and that's it. I like that it's a regiment like that," she said. "I'm not changing plans on the weekend because they're short staffed. I get to spend my weekends doing what I love and spending time with my family."
Nemesis has worked her way up to be a valuable teammate and resource for fellow employees, often helping train new cleaners. She has also taken on responsibilities outside of cleaning like candidate interviews, scheduling, and inspections.
A few years ago, when Nemesis decided she wanted to go back to school, she was thrilled with the office's response. "I wanted to work on an Associate's Degree in Aesthetics. The Cleaning Authority was more than happy to work with me to leave early in order to get to my classes on time," she said. "They helped me along the way towards earning my degree."
In the future, Nemesis hopes to pursue a managerial track with The Cleaning Authority and continue to serve as a resource for her co-workers.